The Cultural Department at Madaa Creative Center - Silwan organized a women's tour to Al-Aqsa Mosque and another tour for the youth to Wadi al-Qatlab and the village of Deir al-Sheikh in Jerusalem.
About fifty young men and women from Madaa Center's youth group participated in the stroll to Wadi al-Qatlab and the village of Deir al-Sheikh in Jerusalem, where they learned about the reality of the destroyed villages and the nature of life in these villages before people were exiled.
The young adults accompanied the tourist guide, Khalil Sabri, who told them about the village that was occupied in the year 1948, it has an area of approximately 8 acres, and it had a population of 225 people when it was occupied. The village got its name after the house of Sultan Badr, owner of the shrine located in the village. The guide also informed them on the village's economic and agricultural life before the occupation. The youngsters visited the Mosque of Sultan Badr, which is the most important landmarks of the village where there is a large shrine for the Sultan and a big tomb for his family.
The social researcher at Madaa Center, Hanan Salim who accompanied the youngsters on the trip said: "The importance of the tour lies in educating and giving awareness to the youth about the landmarks and villages of their occupied country and establishing in their hearts the right to return".  Part of the tour was a walking path that lasted nearly four hours continuously, and then a lunch break, where the youth set a fire and prepared their meal."
Salim added: "At the end, the youngsters evaluated the tour, and their views were positive. They appreciated the trip and agreed that the information they learned in the tour was new to them. Most of them did not even know that this village exists."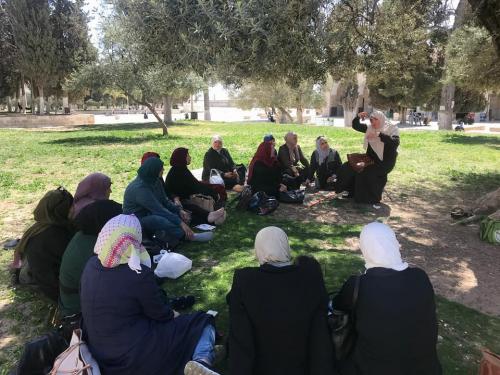 Women's tour to Al-Aqsa Mosque
As part of the cultural and recreational activities organized by Madaa Center - Silwan, twenty women participated in a tour to the Holy Aqsa Mosque.
They went walking by foot to Al-Aqsa Mosque, where Silwan is the most adhering to the south-eastern side adjacent to the mosque. The tour included a meeting with the Female preacher Shiha in which she talked about the importance of the status of Al-Aqsa Mosque, and the importance of prayer in it, and then the women had breakfast together.
The tour ended with a collective prayer, and the women expressed their happiness and sense of psychological and spiritual comfort, and asked to repeat such meetings.