Madaa Creative Center - Silwan concluded the holy month of Ramadan with an evening that brought together women and children.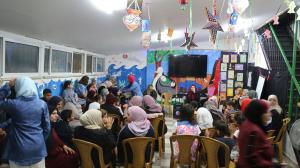 The evening included a number of activities and competitions, children and women sang a number of religious and patriotic songs and bonded together, sweets were distributed to the attendees and Madaa choir performed a song for the month of Ramadan
The Deputy Director of Madaa Center, Ms. Sahar Abbasi, confirmed that the Center is keen to celebrate all occasions and that Ramadan is a great occasion. She also confirmed the women's reference to the Center for its Ramadan celebrations and their happiness to be a part of them.
The children of Madaa Center started a beautiful initiative, where they distributed Eid sweets to the owners of the shops in Silwan and congratulated them on the occasion of Eid Al Fitr Holiday.
Madaa Center celebrated Al Fitr Holiday with the participation of a clown; the ceremony included activities and entertaining games as well as dances and face painting for children, in addition they distributed gifts and sweets to them.
Madaa choir performed a song on the occasion of Al Fitr Holiday.