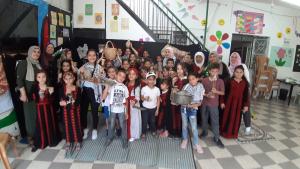 To coincide with the Palestinian Heritage Day, Madaa Creative Center - Silwan organized events to celebrate the occasion with the participation of dozens of children in the three branches of the Center. 
Today, Madaa Creative Center, with the participation of dozens of children, commemorated many cultural events carried out in all its branches with the aim of preserving and consolidating our Palestinian heritage in the minds of our children.
The activities varied between Palestinian folktale storytelling which was narrated by the coordinators of the center and the mothers of the children, the stories were about the lives of the Palestinians long time ago and about the tools they used to use. They also spoke about the customs and traditions and popular proverbs and about the olive tree, which symbolizes giving, persistence, its attachment to the ground and taking root in it.
The children played popular games such as "Seven Stones, Tug of War, and Hide and go seek". They prepared a Palestinian cuisine, where the children had a Palestinian breakfast, which included Taboon bread, thyme, oil and olives.
The children danced to the tones of traditional Palestinian songs and to dabkeh songs to emulate old Palestinian weddings.
The children drew a Palestinian flag and old Palestinian houses; they painted a painting representing the dedication of Palestinian women wearing their Palestinian attire, and made embroidered pieces.
It is worth mentioning that the children had worn the Palestinian attire (the dress for females and the robe (qumbaz) for males) and participated in presenting traditional tools that they had brought from their homes.