Madaa Creative Center - Silwan organized a variety of activities to commemorate the birth of Prophet Mohammad (PBUH) in its branches in the presence of dozens of children.
Each branch separately implemented several activities to commemorate the birth of the Prophet (PBUH). The branch in Ein Al Loza shone by gathering children and sending prayers upon the noblest of creations and chanting religious songs related to the Prophet's birthday. A contest was held through a puppet show made by the children through which they interacted and answered questions about his life and wives. Among the activities, the children did a work of art and made greeting cards to celebrate his birthday using colored play-dough to decorate them.
As for Batn Al Hawa Branch, the children chanted religious songs then they painted a large sun and wrote the qualities of the beloved Mohammad (peace be upon him) on it.
They wrote the names of his wives, children, and lineage, and then hung them on the walls of the center and gathered in a circle to talk about his biography.
The main branch of Wadi Hilweh was characterized by a celebration that incorporated several sections including screening a film of the Prophet's biography, establishing work of art such as making medals that can be hung and picture frames. They experienced teamwork and cheered and sang in the name of the Messenger of Allah.
At the center's 'Dear Madaa' kindergarten, the children celebrated the birthday of the Prophet (PBUH) by decorating greeting cards to give to their mothers.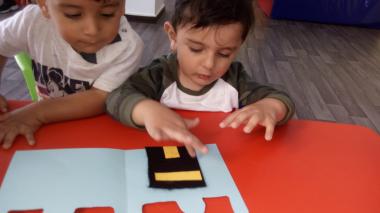 At the end of the ceremony, the staff distributed sponge candy to the children, attached to a card with a characteristic of our noble prophet.